LV is a world-renowned luxury fashion brand that has captivated the hearts of many with its iconic Louis Vuitton patterns and prints. These patterns have become synonymous with the brand, making every piece a true testament to the brand's rich history and legacy. Over the years, Louis Vuitton has introduced various well-known patterns, including the Monogram canvas and the Damier canvas, each with its own unique story and significance.
The invention of these distinct patterns can be traced back to George Vuitton, son of the brand's founder. Since their introduction, the Monogram and Damier patterns have become cornerstones of the fashion house, making it hard to imagine the brand without them. Both patterns serve as symbols of sophistication and timeless elegance, solidifying Louis Vuitton's position as a leader in the luxury fashion industry. As the brand continues to evolve and innovate, these patterns remain an integral part of the brand's identity, showcasing the craftsmanship and artistry that have become synonymous with Louis Vuitton.
Our editors research, and guide on the best products. We may get a small commission on purchases made from our chosen links (learn more about our disclosures)
Key Takeaways
Louis Vuitton's iconic patterns are a testament to the brand's rich history and legacy
George Vuitton's invention of the Monogram and Damier patterns elevated the brand's sophistication and timeless elegance
Louis Vuitton's patterns continue to be integral to the brand's identity, showcasing craftsmanship and artistry.
History of Louis Vuitton Patterns
Monogram Canvas
The iconic Louis Vuitton Monogram canvas was created in 1896 by George Vuitton, the son of Louis Vuitton. This pattern features interlocking letters L and V, along with a distinctive floral design, which was a tribute to Japanese symbolism. Originally applied to trunks for wealthy travelers, this print quickly became a symbol of status and luxury.
Damier Ebene Canvas
Introduced in 1888, the Damier Ebene canvas is another classic pattern by Louis Vuitton. It showcases a checkerboard design with alternating dark brown and light brown squares, accompanied by the "Louis Vuitton" signature within some of the dark brown squares. The pattern was created to combat counterfeits and remain a prominent symbol of the brand's heritage.
Damier Azur Canvas
Introduced in 2006, Damier Azur is a lighter and more casual version of the Damier Ebene canvas. It features the recognizable checkerboard pattern in a combination of white and light blue squares, making it an ideal choice for spring and summer occasions. This pattern embodies the French Riviera's atmosphere, offering a fresh and chic look for your Louis Vuitton accessories.
Multicolor Monogram
In 2003, under Marc Jacobs' creative direction, Louis Vuitton collaborated with Japanese artist Takashi Murakami to create the iconic Multicolor Monogram. This vibrant interpretation of the classic Monogram canvas features 33 different colors printed on white or black backgrounds. The collaboration was a significant milestone for the brand, fusing the world of art with high fashion and resulting in a modern, playful, and highly sought-after collection.
Collaboration with Artists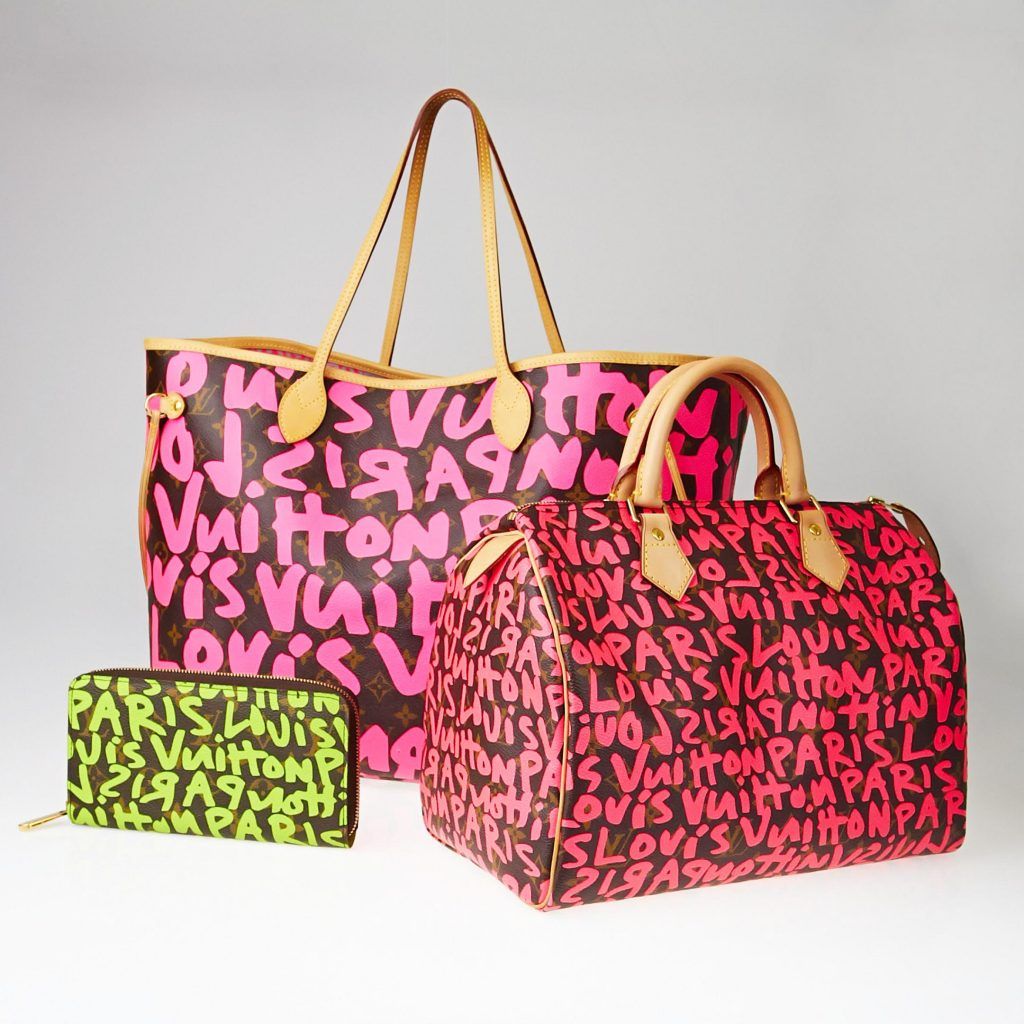 Louis Vuitton has continued its tradition of collaborating with artists to produce unique and innovative patterns. In addition to the highly successful partnership with Takashi Murakami, the brand has worked with various artists such as Stephen Sprouse, Yayoi Kusama, and Jeff Koons, among others. These collaborations have enabled Louis Vuitton to stand out, continually reinvent their classic designs while maintaining their rich historical connections.
Signature Leather Types
Epi Leather
Epi leather is one of Louis Vuitton's most iconic and recognizable materials. Known for its durability and resistance to wear, it features a textured, wavy embossed pattern that gives it a unique and sophisticated look. Introduced in 1985, Epi leather comes in a variety of vibrant colors, making it a popular choice for many of Louis Vuitton's most sought-after bags. The unique texture of Epi leather not only enhances its appearance but also increases its resistance to scratches, making it an excellent choice for your everyday bag.
Vernis Leather
Vernis leather, meaning "varnish" in French, was introduced by Marc Jacobs in 1998. This smooth patent leather is embossed with the signature Louis Vuitton monogram pattern. Its glossy, patent finish gives it a high-end, luxurious appeal. Due to its delicate nature, Vernis leather requires special care to prevent discoloration, scratches, and other damages. However, when properly maintained, this elegant leather can elevate the beauty of any Louis Vuitton piece.
Empreinte Leather
Empreinte leather is another popular and luxurious material in the Louis Vuitton family. Launched in 2010, this soft and supple leather features an embossed version of the monogram pattern, creating a subtle yet elegant design. The beauty of Empreinte leather lies in its wonderful texture and understated sophistication, making it a great choice for anyone seeking a versatile and timeless bag. Known for its durability and ability to maintain its shape, Empreinte leather is perfect for those who appreciate both style and functionality.
Vachetta Leather
Vachetta leather is a natural, untreated type of leather often used for trimmings and handles on Louis Vuitton bags. Its smooth, beige tone will gradually develop a unique patina over time, turning into a beautiful honey color. The patina process is highly valued by many Louis Vuitton enthusiasts, as it tells the story of the bag and its owner. However, due to its untreated nature, Vachetta leather is prone to water spots, stains, and scratches, so it requires a careful approach to maintain its appearance. With proper care and attention, Vachetta leather can become an even more stunning part of your Louis Vuitton bag.
Popular Louis Vuitton Accessories
When it comes to luxurious and iconic accessories, Louis Vuitton never fails to impress. Some popular Louis Vuitton accessories feature the famous monogram canvas, a combination of the LV initials and floral patterns that showcases the brand's elegance and tradition. Here, you'll find a selection of accessories that have become must-haves for fashion enthusiasts worldwide.
In the realm of handbags, the Alma bag is a true classic. Its unique shape and durable canvas material make it a timeless piece that will elevate your style. The Alma is available in various sizes and colors, allowing you to find the perfect fit for your needs and preferences.
Another popular accessory is the Twist bag. Renowned for its chic and modern design, the Twist features a unique metal LV logo on the clasp, adding a touch of elegance. It comes in various materials like leather and canvas, allowing you to sport your style statement with confidence. The Twist's sleek lines and versatile look make it an ideal bag for any occasion.
Louis Vuitton's monogram canvas also appears on many other accessories, such as wallets, key pouches, and travel items. These items offer the same level of luxury and sophistication that you would expect from the brand, which is evident in the quality of materials and craftsmanship.
Additionally, Louis Vuitton accessories extend into the world of technology, providing stylish and functional pieces that protect and enhance your devices. Items like phone cases and earphone covers adorned with the iconic monogram canvas demonstrate the brand's commitment to blending fashion and function seamlessly.
In summary, Louis Vuitton's accessories add an extra touch of elegance to your wardrobe with their iconic designs and luxurious materials. From the classic Alma bag to the modern Twist and a wide array of other pieces, these accessories are a testament to the brand's dedication to quality and style.
Care and Maintenance
Cleaning and Protection
Keep your bag away from direct sunlight to prevent the pattern from fading.

For the hardware, such as zippers, clasps, and locks, use a soft, dry cloth to remove any dirt or fingerprints.
To maintain your Louis Vuitton pattern looking its best, it's essential to properly clean and protect the materials. For the canvas, gently wipe the surface with a slightly damp cloth of light color. Be cautious with the vachetta leather and avoid getting it wet as it can cause spots and stains. Keep your bag away from direct sunlight to prevent the pattern from fading.
For the hardware, such as zippers, clasps, and locks, use a soft, dry cloth to remove any dirt or fingerprints. Avoid using abrasive materials that could scratch or damage the metal. Store your bag in a cool, dry place, preferably in a dust bag or a breathable cotton pillowcase to avoid moisture, mold, and dust.
Leather Conditioning
Your Louis Vuitton bag's leather parts, whether it is vachetta leather or other types, may need some conditioning over time to maintain its suppleness and color. Use a high-quality, neutral leather conditioner or moisturizer specifically designed for luxury handbags to avoid any adverse effect on the material. Apply a small amount of the conditioner on a soft, clean cloth and gently rub it into the leather, following the product instructions.
Be careful not to over-condition, as too much product can cause the leather to become greasy and attract dirt. Also, ensure to test the conditioner on a small, inconspicuous area before applying it to the entire bag to check for any unwanted reactions.
Regular care and maintenance will go a long way in preserving your Louis Vuitton pattern bags. By following these tips, you can keep your luxury handbag looking beautiful and modern for many years to come.
Selling and Buying Louis Vuitton Products
When it comes to selling and buying Louis Vuitton products, you're dealing with high-end luxury items that require careful consideration. As a seller, you want to ensure you receive the best possible return on your investment, while as a buyer, you want to make sure you're purchasing an authentic item that represents the quality you expect from the brand.
To sell your Louis Vuitton bag or accessory, consider reputable platforms such as Sotheby's, which offers free estimates and markets your item to global buyers in 85 countries. This approach allows you to reach a wider audience and potentially get a higher return on your luxury investment.
On the other hand, when you're in the market for a Louis Vuitton product, it's important to familiarize yourself with the brand's most iconic patterns and prints.
The Damier and Monogram patterns, for example, are classic representations of the brand's style.
Keep an eye out for these patterns when shopping, as they can help you identify the genuine article. Remember to avoid exaggerated claims that may be too good to be true, as this could be an indicator of counterfeit items.
As you navigate the buying process, don't forget to verify the authenticity of the item with Louis Vuitton's official website or by visiting a trusted boutique in person. This step is essential, as it can save you from making an expensive mistake.
By following these guidelines and being knowledgeable about Louis Vuitton products, you can confidently engage in the buying and selling process. Remember, quality and authenticity should always be your top priorities when it comes to high-end, luxury items like those from Louis Vuitton.
Louis Vuitton Stores and Services
When exploring the world of Louis Vuitton, you'll find a wide range of exclusive prints and patterns that make their items truly unique. As you visit their stores, which can be found in prominent cities across the globe, you'll be greeted with exceptional customer service and experience.
In Louis Vuitton stores, knowledgeable Client Advisors are ready to assist you with any inquiries. Whether you need help with product selection, or require information regarding their various prints and patterns, these advisors can be reached through phone or email for your convenience.
Aside from a remarkable in-store experience, Louis Vuitton also offers a variety of services to cater to your needs:
Collect-in-Store: This service allows you to place an order online and pick it up at your preferred store location.
Personalization: Explore Louis Vuitton's broad range of customization options for products, from monogramming to unique design elements.
Art of Gifting: Discover carefully curated selections of items that make perfect gifts for your loved ones.
One more aspect worth noting is the Louis Vuitton Foundation. Although not directly related to their prints and patterns, this cultural organization dedicated to art and creativity plays a significant role in the brand's identity. The Foundation's striking building located in Paris, designed by renowned architect Frank Gehry, frequently hosts events and exhibitions that celebrate contemporary creativity and innovation, reflecting the spirit of Louis Vuitton.
As you delve into the world of Louis Vuitton prints and patterns, remember that their stores and services are designed to elevate your experience, making every interaction with this iconic brand truly unforgettable.
Frequently Asked Questions
What is the history behind the iconic Louis Vuitton pattern?
The history of the Louis Vuitton pattern dates back to the 19th century when Georges Vuitton, son of the brand's founder, devised the Monogram canvas to protect the company's luggage designs from counterfeiting. A combination of quatrefoils, flowers, and the LV initials, the Monogram pattern has since become a symbol of luxury and elegance.
What are the different types of patterns used in Louis Vuitton designs?
Louis Vuitton uses several patterns in its designs, such as the Monogram, Damier Ebene, Damier Azur, and Monogram Vernis. Each one showcases a distinct style while maintaining the brand's timeless appeal.
Which Louis Vuitton pattern is considered the most popular?
The Monogram pattern is the most iconic and popular among Louis Vuitton designs. This pattern features the brand's initials intertwined with flowers and quatrefoils, and it can be found on a wide range of products, from bags and luggage to accessories and clothing.
What is the significance of the Damier and Monogram patterns?
The Damier and Monogram patterns hold significant importance for Louis Vuitton. The Damier pattern, created in 1888, is a checkerboard design that represents the brand's storied history, while the Monogram pattern, introduced in 1896, stands as a tribute to the company's founder, Louis Vuitton.
Are there any unique pattern variations for special collections?
Yes, Louis Vuitton has created unique pattern variations for special collections. These limited-edition patterns, such as the Murakami Multicolore, the Sprouse Graffiti, and the Chapman Brothers' collaboration, showcase the creative partnerships and reinterpretations of the brand's classic designs.
What inspired the creation of the Louis Vuitton patterns?
The inspiration behind the creation of the iconic Louis Vuitton patterns was to protect the brand's products from counterfeiting. The unique patterns, combined with high-quality materials and craftsmanship, make it difficult for counterfeiters to replicate the designs, ensuring that the brand remains synonymous with luxury and exclusivity.